Kawlata
---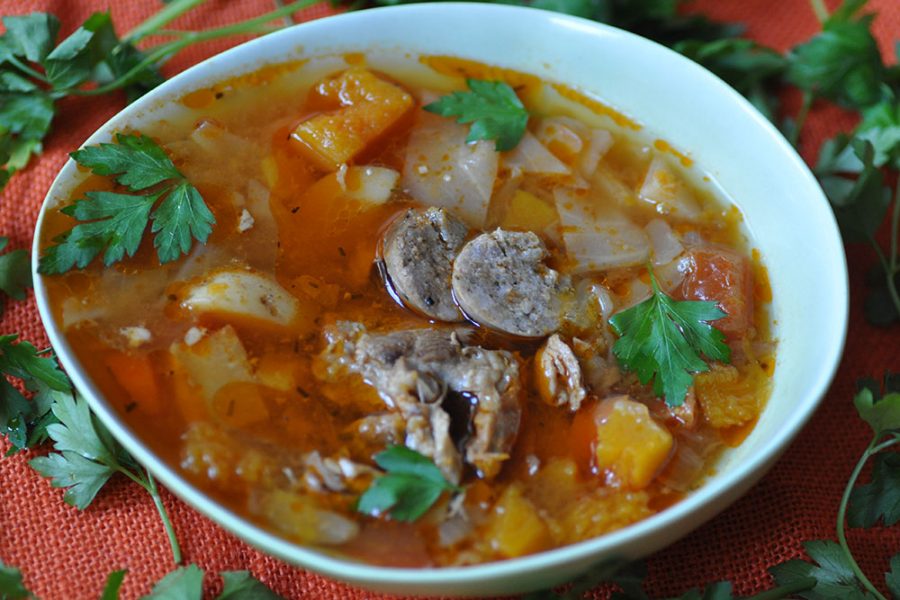 Kawlata – Maltese Pork soup with the vegetable focus on pumpkin and cabbage. What a great combination!
INGRIDIENTS
1 onion diced
2 cloves garlic crushed
600 grams pork shoulder or any other fatty cuts of pork meat
400 grams sausages sliced
2 celery sticks diced
2 carrots diced
1 kohl rabi diced
500 grams cabbage chopped
1 tomato chopped
1 teaspoon coriander seeds lightly crushed
1 teaspoon dried or fresh rosemary
1 tablespoon tomato paste
2 medium potatoes chopped
2 litres boiled water
1 tablespoon vegetable stock
1 small bunch parsley chopped to serve
Olive oil for frying
Yield: 4 servings
INSTRUCTIONS
1. Fry the onion for 5 minutes on medium heat with olive oil until softened in a large soup pot.
2. Add in the garlic, pork and sausages and fry for a further five minutes until browned.
3. Add all other ingredients except the stock and water. Fry for a few minutes.
4. Add in the water and stock and bring to a boil.
5. Reduce to a slow simmer and leave on the stove top for 3 hours.
6. Add in the parsley and serve!