Traditional Maltese Rabbit Stew
---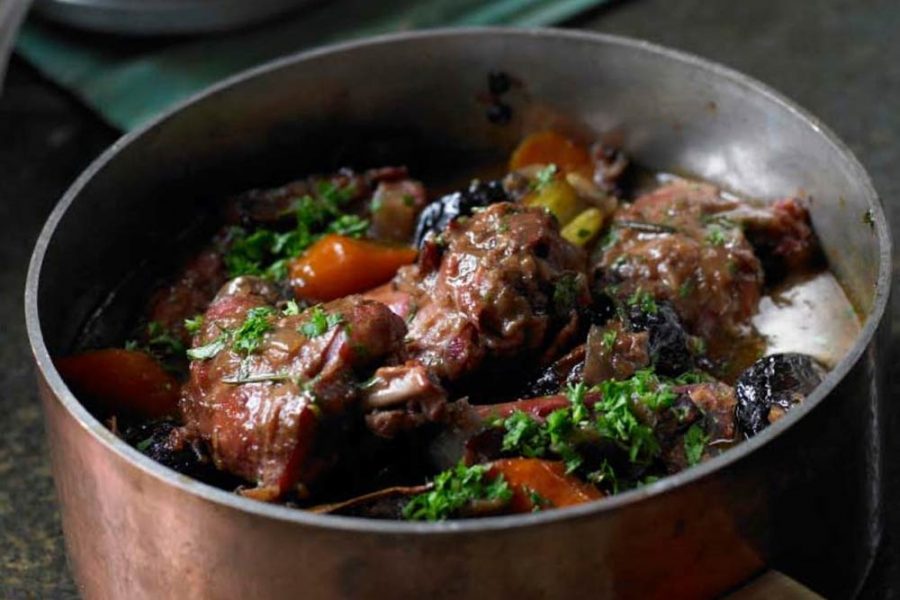 Traditional Maltese stewed rabbit, better known as 'Stuffat tal-Fenek', is considered Malta's national dish. It's been around the Maltese Islands since the Knights of St John, which makes it a cultural delicacy that contributes to Malta's rich heritage. The dish is internationally famed, popular among locals and foreigners alike and is definitely one of the top Maltese foods you must try whilst on holiday in Malta!
INGREDIENTS
2 rabbits cleaned and portioned (the butcher should be able to do this for you)
¾ bottle of full bodied red wine
350ml of water (approx. 2 wine glasses of water)
2 finely chopped onions
4 garlic cloves (peeled and crushed)
8-10 bay leaves
1 x 400g can tomato pulp (polpa) or mashed up plum tomatoes
3 tbsps tomato puree'
2 carrots (peeled and sliced)
6-8 medium potatoes (peeled and roughly chopped)
Salt & pepper
3 tbsps extra virgin olive oil
Yield: 4 Servings
INSTRUCTIONS
Marinade (must be prepare the night before)
1. Mix the wine, garlic and bay leaves in a large bowl to make the marinade.
2. Place the rabbit pieces into the marinade, cover and refrigerate overnight.
Cooking
1. The next day, remove the rabbit pieces from the marinade and shake off the excess liquid (don't throw away the marinade – you'll be using that later!).
2. Heat up the olive oil in a heavy based saucepan on a high heat and sear the rabbit joints on all sides until lightly browned (approx. 4 minutes on each side). Remove the rabbit pieces from the pan and set them aside.
3. Lower the heat and add more bay leaves and onions into the pan. Simmer the onions under low heat until they are browned (approx. 5 minutes). Add the garlic and continue to stir gently for another minute.
4. Add the tomato pulp or the mashed plum tomatoes to the pan and increase the heat slightly. Cook for approximately 5 minutes.
5. Now add the marinade and increase the heat to bring the sauce to a boil.
6. Once again, add the rabbit joints to the pan and mix them into the sauce, topping up the pan with water until all the rabbit pieces are covered.
7. Cover the pan with a lid until it comes to boil and then reduce the heat to a medium simmer.
8. Wait for half an hour and then add the sliced carrots, diced potatoes and tomato puree'. Make sure all the vegetables are covered with liquid and continue to simmer the stew for another half hour.
9. Wait another half and hour and gently move the lid to cover only half of the pan. This will allow the sauce time to thicken.
10.Now it's time to check whether everything is cooked. If the rabbit meat falls off the bone easily and the roots of the vegetable are tender, then your rabbit stew is ready!